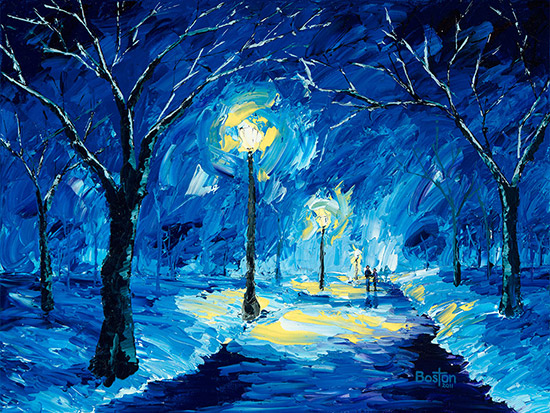 The original oil painting is painted on hand-stretched cotton canvas, 24″x18″. My palette knife impasto painting technique creates a lively textured surface, with really thick paint. This painting comes already framed.
This painting was inspired mostly from a snow storm we had a few years ago here in Seattle. It doesn't happen often. But there's that time at night when you go outside and it's just super cold, and you can't hear hardly anything because the snow dampens the sound, and it seems like things are darker and yet lighter at the same time. I wanted to produce that moment when you are out walking in it and experiencing that snowy winter environment.
My original custom giclée paper prints are produced on archival quality fine art papers that are 100% cotton, with a distinctive textured surface and heavy weight.
Custom prints on canvas add an extra level of authenticity. I personally hand-retouch all my canvas prints with a special surface texture that adds additional gloss and recreates the texture present in the original oil painting back into the print. Other custom print options are also available. Contact me directly to discuss before purchasing!
Original no longer available
Original size: 24″ x 18″
Oil on canvas
Impasto palette knife technique
High quality giclée prints on canvas and archival paper are available.