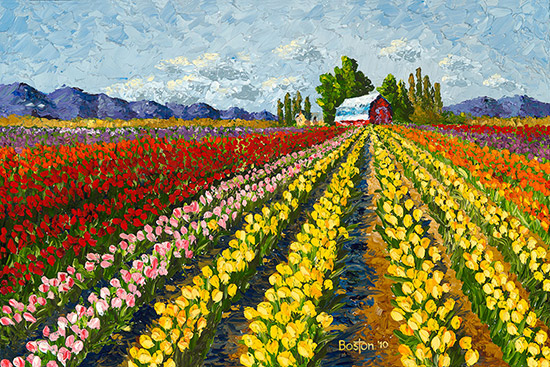 The original oil painting is painted on high-quality cotton canvas, 36″x24″. My palette knife impasto painting technique creates a lively textured surface, with really thick paint. The original is no longer available.
The tulip fields of the Skagit Valley in Washington state are simply amazing. Infinite rows of bright colored tulips and daffodils and the lead characters in the Skagit Valley Tulip Festival every April. This is a fairly typical scene of a huge field of flowers with the supporting farm house in the distance.
My original custom giclée paper prints are produced on archival quality fine art papers that are 100% cotton, with a distinctive textured surface and heavy weight.
Custom prints on canvas add an extra level of authenticity. I personally hand-retouch all my canvas prints with a special surface texture that adds additional gloss and recreates the texture present in the original oil painting back into the print. Other custom print options are also available. Contact me directly to discuss before purchasing!
Original no longer available
Original size: 40″ x 30″
Oil on canvas
Impasto palette knife technique
High-quality giclée prints available. Please contact the artist.