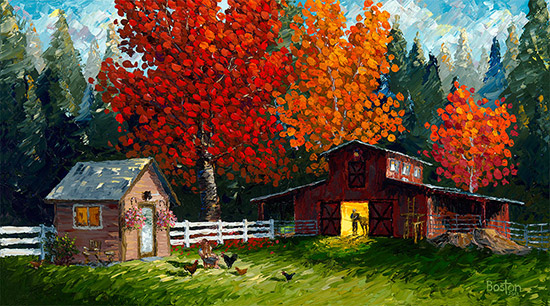 The original oil painting is painted on hand-stretched cotton canvas, 36″x20″. My palette knife impasto painting technique creates a lively textured surface, with really thick paint. The original is no longer available.
A commissioned oil painting for a fantastic couple who live on a farm in Washington state. In real life, they wake up every morning, sit up in bed, and see this scene from their bedroom window. My task was to capture a moment in time with the two of them, their favorite animals, some of the idiosyncrasies of the farm, and most of all create a lasting memory of a place they love.
My original custom giclée paper prints are produced on archival quality fine art papers that are 100% cotton, with a distinctive textured surface and heavy weight.
Custom prints on canvas add an extra level of authenticity. I personally hand-retouch all my canvas prints with a special surface texture that adds additional gloss and recreates the texture present in the original oil painting back into the print. Other custom print options are also available. Contact me directly to discuss before purchasing!
Original no longer available
Original size: 36″ x 20″
Oil on canvas
Impasto palette knife technique
High-quality giclée prints available. Please contact the artist.