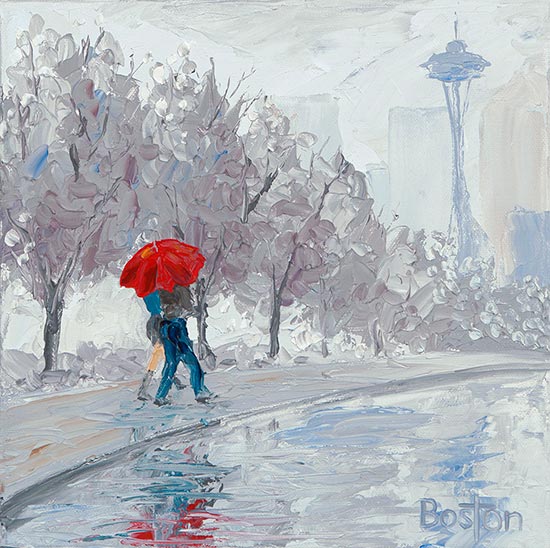 The original oil painting is painted on stretched cotton canvas, 10″x10″, with gallery-wrapped edges. My palette knife impasto painting technique creates a lively textured surface, with really thick paint.
I wanted to produce a series of paintings that are reminiscent of my home location here in Seattle. The Space Needle has always been one of those features that I feel so silly admitting it, but I think it is so incredibly cool. So I thought I'd include the Space Needle as a landmark to paint a feeling and give it a location.
My original custom giclée paper prints are produced on archival quality fine art papers that are 100% cotton, with a distinctive textured surface and heavy weight.
Custom prints on canvas add an extra level of authenticity. I personally hand-retouch all my canvas prints with a special surface texture that adds additional gloss and recreates the texture present in the original oil painting back into the print. Other custom print options are also available. Contact me directly to discuss before purchasing!
Original Available
Original size: 10″ x 10″
Oil on canvas, gallery-wrapped sides
Impasto palette knife technique
High-quality giclée prints available. Please contact the artist.