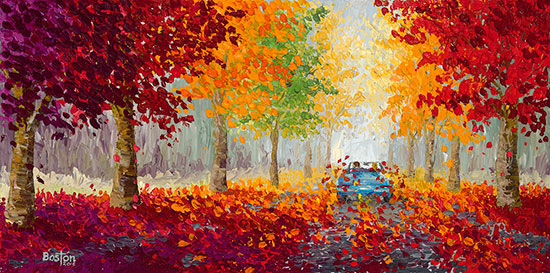 The original oil painting is painted on stretched cotton canvas, 36″x18″. My palette knife impasto painting technique creates a lively textured surface, with really thick paint.
As a kid, one of the best things about fall and fall leaves is that you hope your dad will rake all the leaves into a huge pile and you get to run and jump into it and watch the leaves go flying. When you grow up and become a car guy, one of the things you like to do is find an open country road on a crisp autumn day and blast down the road and watch the leaves go flying. Fun.
My original custom giclée paper prints are produced on archival quality fine art papers that are 100% cotton, with a distinctive textured surface and heavy weight.
Custom prints on canvas add an extra level of authenticity. I personally hand-retouch all my canvas prints with a special surface texture that adds additional gloss and recreates the texture present in the original oil painting back into the print. Other custom print options are also available. Contact me directly to discuss before purchasing!
Original available
Original size: 36″ x 18″
Oil on canvas
Impasto palette knife technique
High-quality giclée prints on both canvas and archival paper available. Please contact the artist.