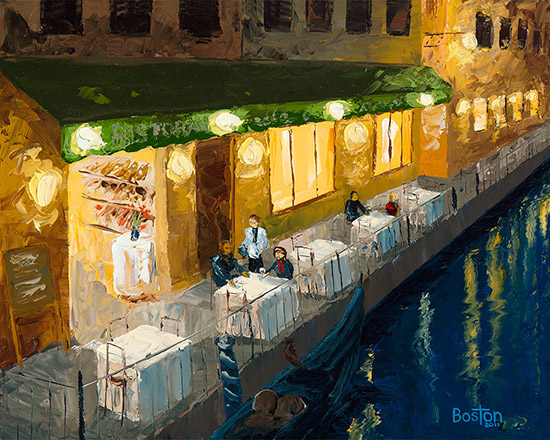 The original oil painting is painted on hand-stretched cotton canvas, 20″x16″. My palette knife impasto painting technique creates a lively textured surface, with really thick paint. The original is no longer available.
A friend of mine brought back a daytime photo of a cafe they enjoyed in Venice. It brought back memories of my trip to Italy, and specifically the couple of days I spent in Venice myself. I used that photo as a springboard to create a night scene that reminded me of the calm canal and quiet peacefulness that I remembered.
My original custom giclée paper prints are produced on archival quality fine art papers that are 100% cotton, with a distinctive textured surface and heavy weight.
Custom prints on canvas add an extra level of authenticity. I personally hand-retouch all my canvas prints with a special surface texture that adds additional gloss and recreates the texture present in the original oil painting back into the print. Other custom print options are also available. Contact me directly to discuss before purchasing!
Original no longer available
Original size: 20″ x 16″
Oil on canvas
Impasto palette knife technique
High-quality giclée prints available. Please contact the artist.